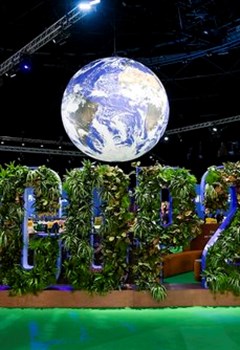 First Impressions and PlanetPod's Amanda Carpenter
Matt's first foray into COP26 was into the Green Zone on Finance Day. This mini-episode gives a flavour of talks he attended, and the atmosphere around Glasgow. There's also a chat with Amanda Carpenter from the excellent www.theplanetpod.com
How bad are bananas?
On Energy Day, Becky hits the Green Zone and plays 'How Bad Are Bananas?' Matt is talking heat innovation and geoenergy at a showcase run jointly by the Scottish Government and Scottish Enterprise.

Contributors:
- Prof Malcolm McCulloch, Oxford University Energy and Power Group
- Dr Mauricio Zaglio, Hank Torbet, Victor Aguilera and Andrew Bissell from East Lothian based East Lothian heat battery innovator Sunamp
- Nicole Figueiredo de Oliviera from Brazilian climate change campaign group Arayara
- David Townsend of TownRock Energy
- Jodie Evans from Future We Want
Snapshots from Friday's youth march
COP26 day 6 saw thousands of young people marching through the streets of Glasgow - with Becky, Matt, and Matt's family all among them.
"This is our fight" - Fraser shares a stage with Greta Thunberg
Fraser Stewart reflects on sharing a stage with Greta Thunberg, Vanessa Nakate and indigenous peoples from around the world - after giving a climate justice speech at the Fridays For Future rally in Glasgow's George Square. "From Dundee to Dakar, Aberdeen to the Amazon, this is our fight".