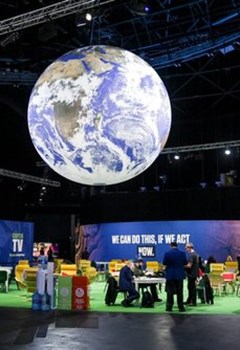 Is 'net zero' an accounting trick?
On his first visit to the COP26 Blue Zone, Matt narrowly misses Barack Obama, hears warnings that carbon offsetting is merely 'an accounting trick', and dips into a session about an initiative in India to help women tackle heat stress. He also compares notes with Fraser as the pair get set for the legendary Carbon Brief quiz.
Becky's Bicycle Diaries
Becky joins the Moving for Climate NOW Bike Ride, cycling across Scotland and into Glasgow. Becky talks to the other cyclists about turning targets into action and making sure vulnerable people are included in the transition to Net Zero. She cycles past wind farms, along cycle paths and dashes white-knuckled through rush hour traffic to reach COP26 with the group's manifesto.
Sustainability in Glasgow with Gavin Slater
At COP26, Becky and Matt chat with Gavin Slater, Glasgow City Council's Head of Sustainability. Gavin outlines action being taken to reach net zero goals on heating, transport and technology, and how COP26 has energised the movement.
Matt in the Blue Zone
In the COP26 Blue Zone, Matt reflects on global uptake of electric vehicles, bumps into California Democrat Congressional candidate Shrina Kurani, and learns about the surprising climate consequences of working from home.
Becky and Matt's long overdue catch up
Matt and Becky finally manage a catch-up, swapping stories and insights from their experiences of COP26. Matt also visits Sunny G community radio in Glasgow's Govan neighbourhood, and takes part in a panel discussion by the 'liberal conservatism' pressure group Bright Blue. We are back to 'business as usual' fortnightly episodes from next week.