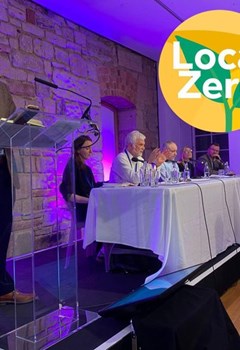 What does a just transition to net zero look like and how can it be delivered? Our #LocalZeroLive COP26 panel show, recorded with a capacity audience at Glasgow's Lighthouse, features:

Richard Lochhead – Scottish Government Minister for Just Transition, Employment and Fair Work
Prof. Jim Skea CBE - Centre for Environmental Policy Imperial College; Co-chair of Working Group III of the Intergovernmental Panel on Climate Change (IPCC); Chair of Scottish Government's Just Transition Commission
Miriam Brett - Director of Research & Advocacy Common Wealth.
Katie Gallogly Swan - Policy Coordinator UN Conference on Trade and Development and the Global Development Policy Center, Boston University.
Scott Mathieson - Director of Network Planning and Regulation at Scottish Power Energy Networks.
Alison Stuart - Co-founder and Director of Aberdeen Climate Action.

With thanks to the Lighthouse, Scottish Government and Visit Scotland for hosting the event, and to Cameron Events for PA support.