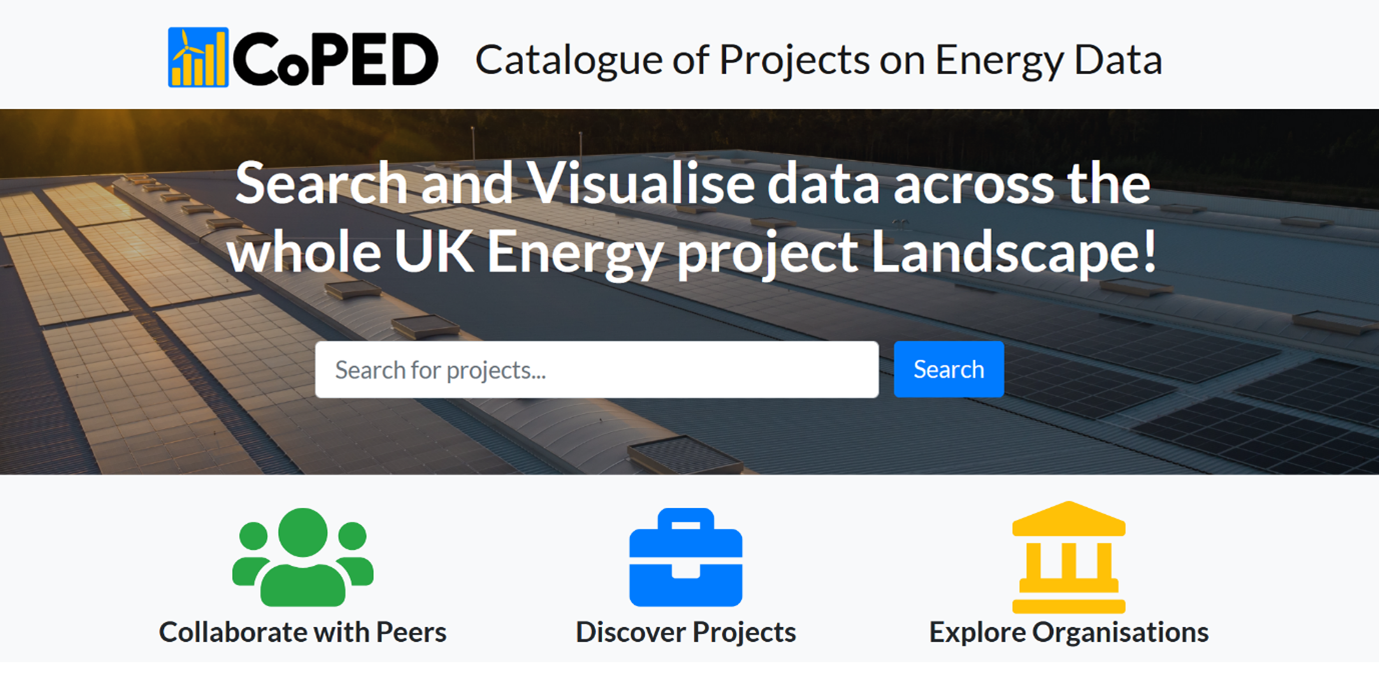 Dr Alison Halford, Research Fellow, Research Centre for Computational Science and Mathematical Modelling, Coventry University
8th November 2021
For the past six months, researchers from EnergyREV Cyber-Physical Advances workstream, in partnership with BEIS and the Energy System Catapult (ESC), have been working on the Catalogue of Projects on Energy Data – CoPED. CoPED aims to unify various information stores and existing portals for energy projects metadata under a single extendible umbrella.  The platform is intended to complement the Energy Data Visibility Project (EDVP) that focuses on energy data. 
CoPED goes beyond a database, as it seeks to connect individuals and institutions in the energy sector to showcase projects, encourage collaboration and offer a forum to engage.  Having a central platform provides a collective and strategic voice to support UK energy digitalisation. By creating a shared domain that brings energy stakeholders together, CoPED will facilitate informal networks for knowledge-sharing, exploration of new partnerships, and identify gaps in energy data.  
From the early stages of the development of the portal through to the delivery of the early-stage prototype this July, the involvement of energy stakeholders has been invaluable in the development of CoPED. On the 14th of October 2021, CoPED hosted an online workshop for industry representatives, academics, energy project teams, and policymakers to look at ways to build a community of practice around CoPED. In asking attendees to input on the further development of the platform's functions that can aid responsible innovation and collaboration, conversations emerged that challenged conventional thinking around energy project metadata:
Who decides what qualifies as energy project metadata? Is there a common factor when creating a typology around energy projects?
How do we retrieve, update, and curate energy data in ethical, transparent, and inclusive methods?
What visual aids, query tools and metrics can facilitate new partnerships across sector boundaries?
In what ways can the platform provide a shared repertoire of resources and ideas to map knowledge around energy metadata that addresses knowledge and institutional hierarchies?
To what extent can the product identify gaps in knowledge around energy projects that can improve stakeholder resilience and support a community of practice?  
What role does CoPED have in fostering interaction that builds innovation capacity and encourages a willingness to share ideas?
The next stage of development is conceptualising workshop feedback to produce functions that encourage individuals and institutions to engage more proactively with the product. Similarly, a workshop is planned for January 2022 with the energy project community on how CoPED can promote common ground, inspire others to participate, and give meaning to the platform.
You can access CoPED here to visually explore projects and organisations, as well as collaborate with peers. This is an ongoing project and we welcome feedback on its development, if you have suggestions for shaping or using the platform, or if you would like to take part in future workshops, please get in touch with Alison Halford.