By Stephen McArthur, EnergyREV Academic Lead, and Rebecca Ford, EnergyREV Research Director, University of Strathclyde, Glasgow
Countries around the world are embarking on energy transitions to decarbonise their economies, and decentralised solutions are becoming an increasingly prevalent part of the landscape. The UK wishes to be at the forefront of this and has put in place an ambitious programme of research, development and demonstration through the Industrial Strategy Challenge Fund. The Prospering From the Energy Revolution (PFER) programme has been created to explore how rapid innovation and a shift towards smart local energy systems can deliver wide reaching benefits to society. This includes new investable business and commercial opportunities for the UK.
The UK has an active and highly regarded community of academics who have been undertaking research and advancing innovations to enable this transition. Experience and expertise have been built in the key topics underlying this transition, including smaller scale renewables (such as solar, wind, micro-hydro), digital infrastructure, and artificial intelligence. These are all evolving at a rapid pace, opening up opportunities for new business models and market opportunities, new forms of user and citizen engagement, new types of data and autonomous management practices, and new challenges for policy, regulation and governance.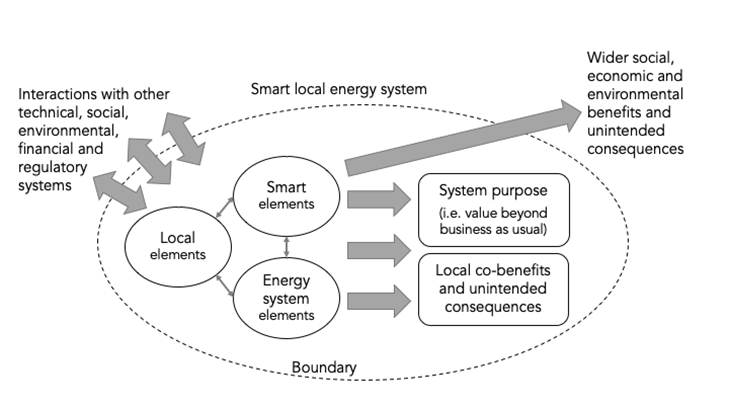 EnergyREV (the UKRI funded Energy Revolution Research Consortium) is a core part of the PFER programme that brings together over 50 researchers from 22 universities. Our goal is to collaborate with the PFER demonstrator and design projects to help accelerate the ways in which smart local energy systems can deliver positive benefits and societal value beyond business as usual. We aim to use our academic expertise to help the UK to demonstrate that it is at the forefront of the energy transition, both in terms of deployment and in terms of creating new societal and commercial opportunities and value.
We will be exploring questions such as "what benefits should smart local energy systems be delivering and to who?", "how are different stakeholders working to deliver these systems?", and "how can local needs be balanced with scalable solutions?". But what future smart local energy systems will look like, and the ways in which they will deliver these anticipated benefits, is unclear.
Making sure we understand the process by which system and societal benefits can be delivered is key to make sure we unlock the full value of smart local energy systems. An early piece of research in EnergyREV has explored these issues and developed a framework for understanding and conceptualising smart local energy systems. Rather than providing one fixed definition of what a smart local energy system (or project) is or should do, it provides a consistent way for exploring ways in which the smart local energy system can deliver value beyond business as usual (to the energy system, its users, and society more broadly) and the pathways by which the "smart" and "local" aspects of the energy system allow this value to be realised.
Over the coming months we will release a series of white papers which explore topics such as: barriers for scaling up smart local energy systems, cyber-physical advances and opportunities; policy and regulatory challenges; and, approaches for evaluating user engagement in smart local energy system projects. We will also be looking to further develop our collaborative research with the PFER demonstrator and design projects and build relationships with the wider industry.
If you'd like to keep in touch and continue to hear about our research and findings, make sure to sign up for our monthly newsletter and follow us on Twitter @EnergyREV_UK.