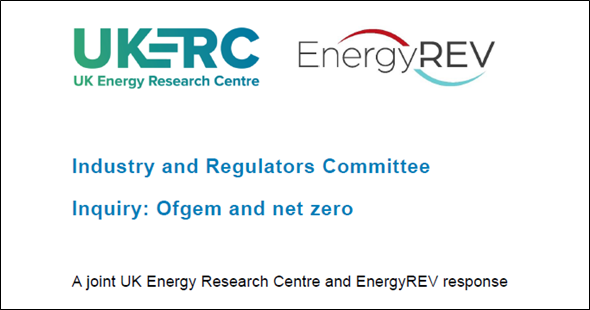 Dr Jeffrey Hardy, Sr Research Fellow, Grantham Institute for Climate Change, Imperial College London
28th September 2021
Back in June, I gave oral evidence to the House of Lords Industry and Regulators Committee on their inquiry into "Ofgem and net zero". I appeared alongside Professor Catherine Mitchell and we answered a range of good questions on Ofgem's future role. You can view the evidence session here and I summarised my thoughts in a blog.
Since then, EnergyREV has teamed up with the UK Energy Research Centre to submit a response to the request for written evidence. You can read the full response here. In this blog I pull out some key points for our joint submission.
Pace of change
The first and perhaps most important point is that achieving the net-zero target requires rapid and unprecedented change. The last two weeks have demonstrated how rapidly things can change, as the energy price crisis has already reconfigured the energy supplier landscape, with likely more supplier failure to come. Going forwards, there is no 'business as usual' scenario – today's regulatory framework designed for a static environment looks far from fit for purpose.
Promote net-zero into the Gas and Electricity Markets Authority's principal objective
Ofgem, acting on behalf of the Gas and Electricity Markets Authority (GEMA), has a dizzying array of duties. These include the regulation of monopoly networks, promoting competition and regulating competitive markets, and managing various energy sector social and environmental programmes. It has to take into account a number of factors in all the decisions it takes including those relating to promoting competition, economic efficiency, environmental sustainability and social factors (such as protecting consumers in vulnerable circumstances). In other words, the net-zero target fights it out against lots of other (important) factors. Our proposal is to promote net-zero into GEMA's principal objective. It could read, for example: The Authority's principal objective is to protect the interests of existing and future consumers as the UK transitions to net-zero energy systems.
The aim of promoting net-zero to the principal objective remove the competition between limiting greenhouse gases and other objectives. Instead it turns the attention to how a net-zero energy system can best meet other objectives.
The role of Ofgem
Another important issue we raise in the consultation is how the role of Ofgem could change depending on political choices in the energy transition and in light of the roles and responsibilities of other institutions, including new ones.
On the former, as an example, political choice could influence whether the energy transition is driven by competition or (to some extent) central planning. A competitive approach requires a regulator similar to Ofgem today, a more centrally planned approach could limit the current role of Ofgem, perhaps to network and retail market regulation.
On the latter, stepping outside of our joint response for a moment, in EnergyREV we have identified the critical importance of local actors, such as local authorities, in delivering net-zero smart local energy systems. If the energy transitions were to become more local, and to some extent more bespoke, could that entail a different (local) regulatory regime from one place to the next?
The important role of Distribution System Operators (DSO)
Much of the net-zero action is happening at the distribution networks level – including electricity generation, heat and transport decarbonisation. There are considerable benefits to adopting a smart local energy systems approach, whereby all the local energy assets are contributing to efficient and reliable local (and national) energy system operation. The local Distribution Network Operator (DNO) will need to play a crucial role in managing this complex smart system for local and national benefits as a DSO.
The DNOs are currently writing their final business plans for the current price control (where Ofgem sets the companies revenues for 2023-2028). It is a crucial time, as its when the DSOs are expected to fully emerge. It is also a period of important and intense discussions with local stakeholders to understand their aims, aspirations, values, needs and preferences. These discussions need to shape how the DSO will work to deliver net-zero smart local energy systems for the benefits of all. And there isn't time to get it wrong.