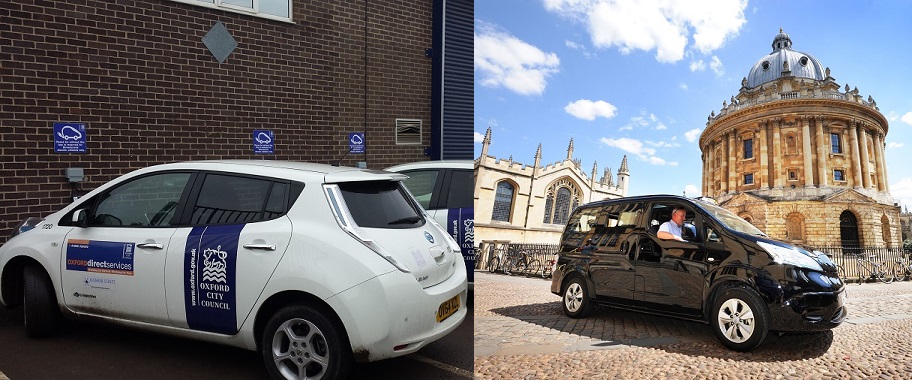 By Tim Rose, ESO Programme Manager, Pivot Power

Oxford City Council has taken delivery of its first electric vehicles (EVs) and will electrify 10% of its 330-strong fleet over the next 3-4 months, putting it on track to have switched a quarter of its fleet to electric by 2023.  
The vehicles have been funded by ESO, a 3-year £41 million project which has received £10m from the government's Prospering from the Energy Revolution Challenge. The project is led by Oxford City Council and Pivot Power (an EDF Renewables UK company) and includes Habitat Energy, Invinity Energy Systems (previously redT energy), Kensa Contracting and the University of Oxford. 
The project is also funding a 'Try before you buy' scheme for Oxford's Hackney Carriage drivers, which aims to accelerate the switch to zero emission capable (ULEV) Hackney Carriage vehicles. From 2025 drivers will only be able to get a licence if they have a zero-emission capable cab. 
A 50-charge point EV public Superhub will open at Redbridge Park & Ride. The Superhub aims to include 20 rapid charge points, capable of charging a car in 15-50 minutes, and 30 fast charge points which can charge a car over a period of hours, for example while Park & Ride users are at work or shopping in the city centre. 
The charge points will be connected to an 8km, 25MW private wire network delivering power directly from National Grid's high voltage transmission network. This unique approach, developed by Pivot Power, will leapfrog capacity constraints on the local network to provide flexible, reliable power at scale and help fast-track EV adoption across the city. 
Pivot Power is also developing a 50MW hybrid energy storage system, which will combine lithium-ion and vanadium redox flow technologies to create an innovative solution which will help balance electricity supply and demand and enable greater use of renewable energy.  
ESO is also enabling Oxford residents to benefit from low carbon heating solutions. The project is supporting the installation of Kensa Contracting's innovative low carbon heating solution which combines 'shoebox' ground source heat pumps with smart controls and a time of use tariff to optimise heat production for cost and carbon savings. The first 60 properties to be installed are with affordable housing provider, Stonewater, in Blackbird Leys. ESO aims to roll out this technology to 300 properties in and around Oxford over the next two years. 
ESO demonstrates a model for cities that can be replicated nationally to cut carbon and improve air quality. By integrating innovative technologies for maximum impact it is demonstrating the opportunity to harness the energy transition for lasting environmental and economic benefit.