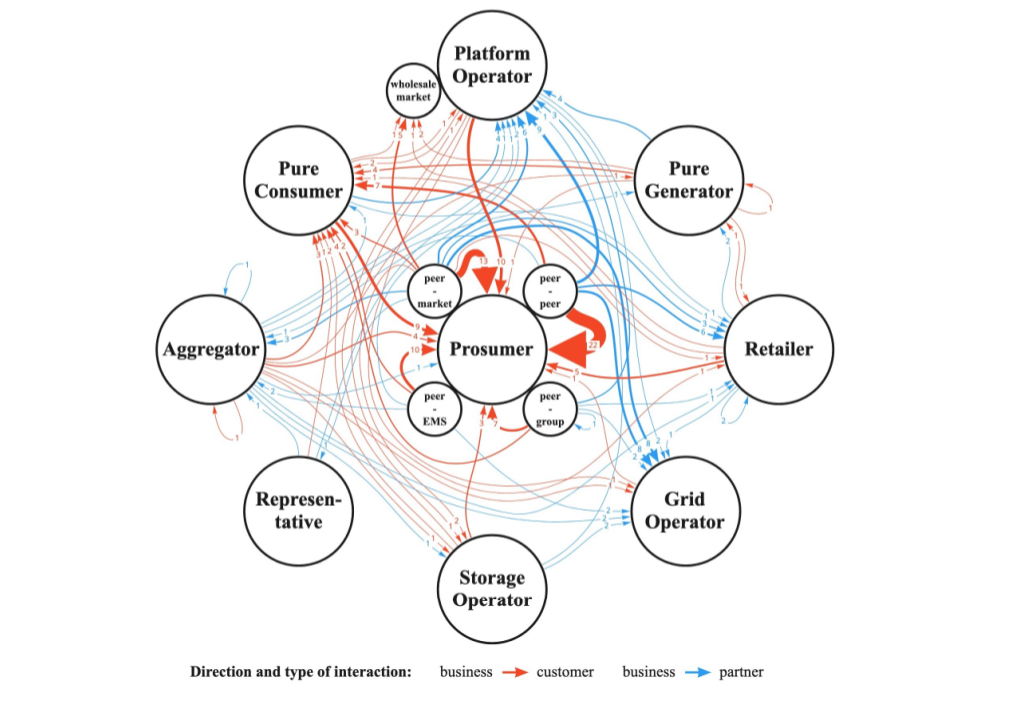 Ruzanna Chitchyan, Associate Professor of Software Engineering, University of Bristol
30 March 2022
The emergence of Peer-to-Peer, Collective or Community Self-Consumption, and Transactive Energy market models gives rise to new configurations of business models for local energy trading among a variety of actors.
International collaboration involving EnergyREV researchers has carried out a comprehensive analysis of emerging business models for the entire set of microeconomic actors such as prosumers, aggregators, grid operators, retailers, etc..
A systematic literature review of 135 peer-reviewed journal articles has revealed 12 business model archetypes. Each of these archetypes is detailed, considering their:
key business partners (e.g., a prosumers require platform operators to engage into P2P trading),
key resources required (e.g., generation assets, market platform)'
key activities (e.g., trade electricity, offer storage capacity, etc.),
value proposition (e.g., financial gain due to better priced electricity or ancillary services) ,
discussing how customer relationships are supported (e.g., via automate platform or personal assistance),
which channels are used for value delivery and how it is evaluated (e.g., through price, individual preferences),
which customer segments are engaged (e.g., retailers, aggregators, prosumers), and
what cost (e.g., capital cost of installation) and revenue structures (e.g., income from electricity sold at variable price or cost reduction) each archetype comprises.
This work provides the researchers and practitioners  in the local energy market with a detailed understanding of the structure and operation of 12 business model archetypes for local energy markets. These archetypes can serve as a starting point for planning, analysis and improvement for the novel SLES businesses.
The full paper can be accessed here: Emerging Business Models in Local Energy Markets: A Systematic Review of Peer-To-Peer, Community Self-Consumption, and Transactive Energy Models.