EnergyREV Consortium
Last Updated 6 December 2021
Overview
Our bi-monthly EnergyREV newsletters bring together a range of blogs and news from the EnergyREV consortium and the wider PFER programme. You can read past editions below or get it sent straight to your inbox by signing up for our news updates.   
November 2021 Newsletter 12
Our November newsletter opens with some reflections on COP from EnergyREV's Research Director Rebecca Ford discussing what it was really like to be at COP26 and how inspiring activities and knowledge sharing will help to drive forward change. We also have insights from three other EnergyREV researchers on their COP experiences, as well as a series of blogs looking a different aspects of smart local energy systems. Along with several news items on our ongoing research activity, the November newsletter is full of insights and actions on the transition to a low carbon future. You can read by clinking the image or link below.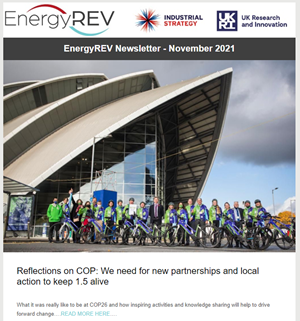 Read Newsletter 12: November 2021
September 2021 Newsletter 11
Our September newsletter highlights opportunities for integrating and combining the findings from across Prospering from the Energy Revolution (PFER) to provide real evidence on the value and place for Smart Local Energy Systems (SLES). For EnergyREV, this includes integrating our activities and key insights from across our work package activities to drive novel and impactful outcomes, something we start to pull together in our Starting to Join the Dots report, that features in this newsletter. More widely, insights on skills and training, policy and regulation, and an update from the ReFLEX Orkney PFER demonstration project. You can find out more about these items as well as a round-up of wider EnergyREV and SLES news by clicking the image or link below.