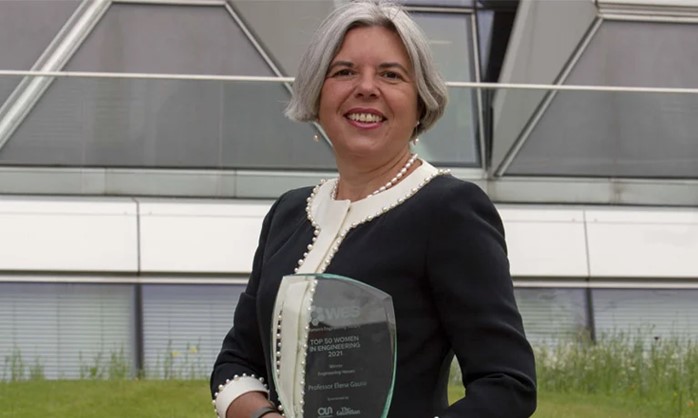 Joanne Patterson, Senior Research Fellow, Cardiff University
9th July 2021
Professor Elena Gaura, EnergyREVs lead for Cyberphysical Advances, has been named in the UK's Top 50 Women in Engineering for 2021, awarded by The Women's Engineering Society in association with The Guardian newspaper and Assystem.
The Awards celebrate women like Elena who have made a significant contribution to tackling global challenges, helping organisations and communities through their vital work in engineering. The WE50 was created in 2016 by the Women's Engineering Society to raise awareness of the skills shortage facing the industry, highlighting the huge discrepancy between the number of men vs. women currently in engineering professions.
Elena leads a team of 12 within EnergyREV who are focussing on the integration of local energy systems' technical infrastructure with smart control that requires complex interactions between data, controls and the physical energy network's devices and systems. She is also involved in a number of multi-disciplinary international projects within the realms of cyber-physical systems, energy engineering and social sciences and is passionate and committed to a number of causes including 'energy-for-all' initiatives, currently taking place in the UK, the Brazilian Amazon, Philippines, Nepal and Rwanda, all centred on the UN Sustainable Development Goals and focused on affordable and clean energy.
You can find out more about the award and Elena's work from Coventry University and visit here for more information on the Women in Engineering award winners.