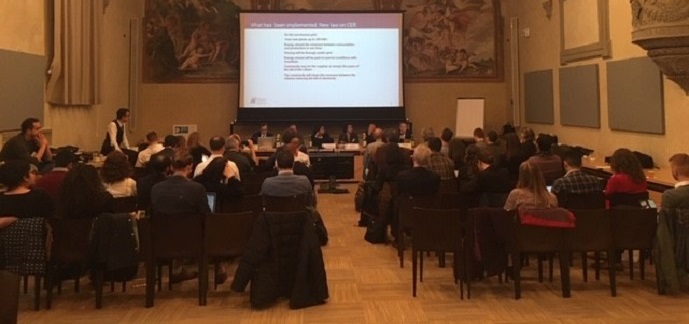 By Alexandra Schneiders, EnergyREV Researcher at UCL Energy Institute
On Monday 17th and Tuesday 18th February 2020, the second meeting of the Global Observatory on Peer-to-Peer, Community Self-Consumption and Transactive Energy Models (GO-P2P), an Annex of the User-Centred Energy Systems Technology Collaboration Programme by the International Energy Agency (IEA), took place in Florence (Italy).  
The meeting was hosted and organised by the Florence School of Regulation (European University Institute), which is leading GO-P2P's sub-task on policy and regulation. The event was attended by 60 stakeholders from 13 countries. The United Kingdom was strongly represented, with 17 UK-based experts attending, from organisations including the University of Cambridge, University of Surrey and Delta-EE.  
On Monday presentations from policy makers including an Italian energy regulator, European community energy association, industry representatives including Enel, Vattenfall as well as P2P/TE/CSC pilots Quartierstrom from Switzerland and ènostra from Italy. A presentation was also made by Dr. Donal Brown from the University of Leeds on the Horizon 2020-funded PROSEU project. The second day of the event was only open to GO-P2P participants where updates were provided by University College London (which is managing GO-P2P) on current activities, and participants discussed the next steps of the Observatory's work.  
The main 'takeaways' from the meeting are that participants are very enthusiastic about becoming actively involved in GO-P2P's main activity of gathering information on and learning from peer-to-peer energy trading, transactive energy and community self-consumption pilots across the world, including the United Kingdom. Participants also appreciate the platform for international collaboration provided by the Observatory. 
The next GO-P2P meeting will take place in September 2020, with the location still to be confirmed. Please do not hesitate to contact Alexandra Schneiders (a.schneiders@ucl.ac.uk) for further information.