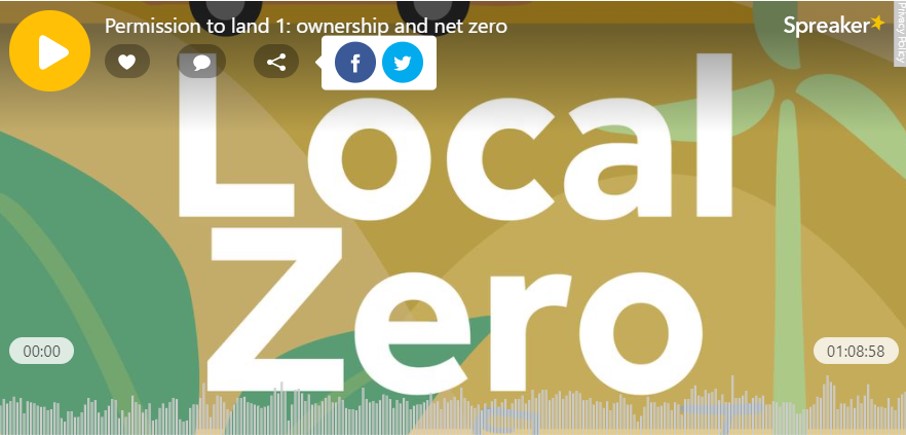 Richard Hoggett, Research Associate, Welsh School of Architecture, Cardiff University
27 Sept 2021
In a speech to the UN last week, Boris Johnson stated that COP26 in Glasgow needs to be the turning point for humanity. This is not an understatement, earlier this month the multi-agency United in Science 2021 report said that without immediate, rapid and large-scale reductions in greenhouse gas emissions, limiting warming to 1.5oC will be impossible, with catastrophic consequences for people and the planet on which we depend. This follows hot on the heels of the last report from the Intergovernmental Panel on Climate Change in August 2021, that was widely reported as  'code red for humanity' and indicated that climate change is widespread, rapid and intensifying - a reality check for where we are headed. It's a daunting challenge, and whilst there has to be action at the international and national level, change is also needed in our communities, homes, towns and cities.
It is at this more local level that some of the most exciting and innovative action is taking place and a great resource for insights and inspiration is via the EnergyREV supported Local Zero podcast.
Local Zero is focused on a key question: how can local action help to tackle climate change? Run by the University of Strathclyde researchers, Rebecca Ford, Matt Hannon and Fraser Stewart, Local Zero unpacks action being taken by communities, households, local government, industry and everyone in between, to combat the climate emergency at the local-level.
At the time of writing, there are 24 episodes of Local Zero available, sharing discussions with experts, leaders and people taking action on-the-ground, to find innovative approaches for a net zero future. The themes and guests are varied and diverse, reflecting the complex and bustling local action landscape. From community energy, finance, heating and insulating homes, through to transport, data and skills, there are insights for everyone. For example:
In the latest episode you can hear from an academic, a heat specialist, and a community co-op, sharing their knowledge on the jobs, skills and training needed to make our homes fighting fit for a net zero future.
Local Zero is for anyone who has any interest in climate action, providing accessible conversations about real-life, practical action on climate change. It's a podcast for hope, full of actionable solutions to the climate challenges we now all face.
You can find out more about Local Zero here and listen back to all the episodes via EnergyREV.