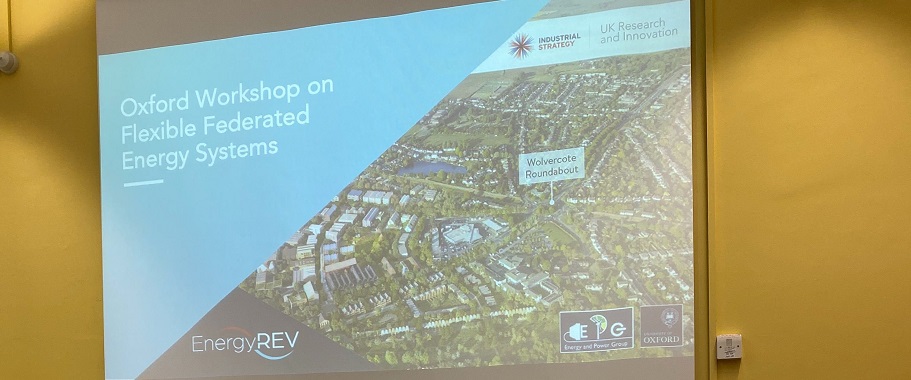 By Thomas Morstyn, EnergyREV WP Co-LEAD, the University of Oxford.
On the 2nd of October 2019, the University of Oxford hosted the "Oxford Workshop on Flexible Federated Energy Systems", as part of the EnergyREV theme Market Design for Scaling Up Local Clean Energy Systems. Funding for the workshop was provided by an EPSRC Impact Acceleration Award, and the event was co-organised by the Oxford Energy and Power Group, the Smith School for Enterprise and the Environment, and the Oxford Martin School Programme on Integrating Renewable Energy.
The workshop brought together 28 representatives from industry and academia working on market design for smart local energy systems (SLES). The aim was to discuss emerging challenges and opportunities, with sessions focused on: 'What value can SLES offer?'; 'How can we design markets for SLES?'; 'How can we integrate local flexibility into transmission system operations?'; and 'What new tools are needed for managing SLES?'. As hoped, these topics provoked lively discussion and new ideas for collaborations, which will help shape the direction the EnergyREV Market Design project.
Presentations were given by Malcolm McCulloch from the Local Energy Oxfordshire (LEO) demonstrator, Colm Murphy from National Grid ESO, Steve Atkins from Scottish and Southern Electricity Networks, Nick Good from Upside Energy, as well as Rebecca Ford,  Jeffrey Hard.y, Jonathan Radcliffe and Thomas Morstyn from EnergyREV. Special thanks to Victoria Grant, Mallory Newman and the staff of the Oxford Martin School and Balliol College for their help organising the event.