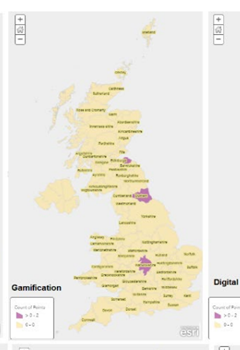 Authors: Rajat Gupta and Sahar Zahiri
Published in:  Conference proceedings, BEHAVE 2020-2021 the 6th European Conference on Behaviour Change for Energy Efficiency, April 2021. Section 5.1 p80-84 https://c2e2.unepdtu.org/wp-content/uploads/sites/3/2021/05/481-enhancing-user-engagement-in-local-energy-initiatives-using-smart-local-energy-engagement-tools.pdf
Date Published: 21/4/21
Abstract: 
To address the growing concerns over the climate emergency, the UK government has committed itself to a net-zero emissions target by 2050 by limiting the temperature rise to 1.5°C. Local energy initiatives can help in meeting this target by delivering cleaner, cheaper and desirable energy services for end-user by integrating the smart (digital) use of data and communication technologies to interact with users. Deploying effective Smart Local Energy Engagement Tools (SLEETs) in local energy projects that allow users to manage, control and observe energy better will help to reduce this pressure, while encouraging users to become active participants. SLEETs are enabling smart tools that enhance user engagement by supporting energy users to reduce energy use and costs, match energy demand with supply and improve energy efficiency and management. They also allow users to measure their own energy consumption and investigate energy efficiency measures and the environmental impact of energy systems. These tools can provide advice and support to improve energy behaviour and help users participate in local energy markets such as peer-to-peer trading and grid balancing. For SLEETs to be effective, they should address engagement between people and people and people and technologies. It is also important to improve the inclusiveness of SLEETs by including vulnerable users and those who are not digital and therefore ensure no one gets left behind in the local energy transition. This paper examines the prevalence, effectiveness and inclusiveness of smart local energy engagement tools (SLEETs) that have been deployed in local energy projects both across the UK and internationally to enhance user engagement and participation in local energy management. This includes supporting users to engage with energy efficiency, energy generation and demand side response.
Keywords: user engagement, local energy projects, smart energy tool, climate change
Insights for EnergyREV:
Smart local energy engagement tools (SLEETs) have been deployed in local energy projects that focused on digitalisation of energy and integration of heating and electricity generation, distribution, storage and EV infrastructure. Integrating social aspects with SLEETs such as mobile app, online dashboard, gamification and digital voice assistant can empower users to manage energy services. For this to happen, transparency should be improved to allow users to know what data are being collected and how they are being used.