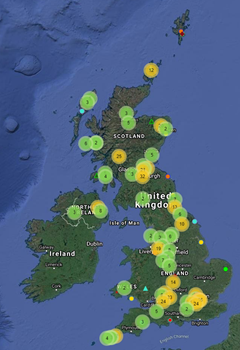 Fabian Fuentes Gonzalez and Jan Webb
September 2021
The EnergyREV Business and Finance Research Team, with the technical support of researchers based at the University of Strathclyde, have built a GIS map of local energy businesses in the UK.
Geographical and non-geographical information has been collected for 699 legally-constituted companies working in energy sector in the UK which is stored in a database. This database is based around information provided by Bureau van Dijk through its FAME database. The EnergyREV team have manually collected and integrated more information from additional sources, where available, including specialised/sectoral websites, company websites, notes to the financial statements on UK Companies House website, media articles and other online sources from Google search engine.
The companies included illustrated on the map are defined as local based on at least one of the following:
1) a business with relationships to local stakeholders
2) involvement in local decision-making, and/or
3) (some) local ownership of assets.
This is an exploratory approach to classifying businesses as local and will be further developed over time.
You can access the GIS map by clicking the image below. More details on the information shown in this map can be downloaded below.
Tags: Company; data; localism; scale; decision making; asset; legal; location; tool; accounts