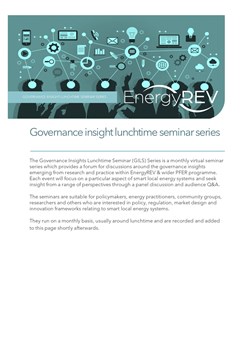 Madeleine Morris
November 2021
Overview
The Governance Insights Lunchtime Seminar (GILS) Series is a virtual seminar series which provides a forum for discussions around the governance insights emerging from research and practice within EnergyREV & wider PFER programme. Each event will focus on a particular aspect of smart local energy systems and seek insight from a range of perspectives through a panel discussion and audience Q&A.
The seminars are suitable for policymakers, energy practitioners, community groups, researchers and others who are interested in policy, regulation, market design and innovation frameworks relating to smart local energy systems.
They run around lunchtimes and are recorded and added to this page shortly afterwards. If you would like to sign up for news on future GILS events visit our contact page.
Seminars
Seminar 3 - Local energy systems in the UK: Where and why?
16 November 2021
The local and community energy landscape has shifted over the past decade to be more integrated or system-orientated. To learn from experiences we need to know: Where are these projects located? Which areas of the UK have the most favourable conditions for local energy systems projects to happen?
In this seminar, we introduce the new GIS map of local and community energy projects across the UK. We also explore which local conditions can support local energy systems, and draw out the implications for national and local policymakers. You can access both of these resources via the links and get more information on this latest seminar via the EnergyREV YouTube Channel.
Seminar 2 - Bristol: a case study on the training and skills needed for a smart local energy 'system of systems'
19 May 2021
What challenges does the UK face in transitioning to smart local energy systems? And what skills are needed to make this transition successful?
To answer these questions, EnergyREV has produced a case study of the city of Bristol, one of the UK's energy champion localities where such a transition is already underway. In this seminar we present the key messages and recommendations from the study followed by a panel discussion and Q&A session that includes national government, industrial and academic perspectives.
You can access the report this webinar discussed here: Bristol: a case study on the training and skills needed for a smart local energy 'system of systems' 
Seminar 1 – Post-pandemic recovery: how smart local energy systems can contribute
22 March 2021
How could adopting a smart and local approach to energy-related recovery measures lead to more investment and action which is better value, better targeted, and faster (but enduring)? Our panel of experts discuss what this means for national government, local government and citizens alike. This is the first in a series of monthly seminars which will gather insights from across the EnergyREV academic consortium and discuss their implications for future energy governance.
You can access the report this webinar discussed here: Post-Pandemic Recovery: How Smart Local Energy Systems Can Contribute