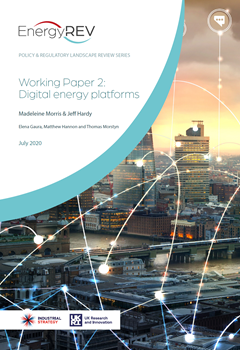 Madeleine Morris, Jeff Hardy, Elena Gaura, Matthew Hannon, and Thomas Morstyn
July 2020
The emergence of digital platforms – which connect buyers and sellers of products, services and other resources – is a trend which can be seen globally across the economy. While they are not a new phenomenon in energy, digital platforms haven't yet had the disruptive impact seen in other sectors, such as accommodation (e.g. Airbnb) and transport (e.g. Uber).
This is a currently unregulated space, which creates a balancing act for decision makers in policy and regulation. On the one hand, energy is an essential service so ensuring the safety of the system and protecting the interests of its users is crucial. On the other hand, platform businesses have the opportunity to help build a cleaner, more flexible and fairer energy system, and regulating too soon is likely to stifle innovation and limit their impact.
This report takes a systematic review approach to the policy and regulatory environment in which digital energy platforms are emerging to identify how this may impact the opportunities for them to shape, or fit into, the energy system. The review uncovered three key areas – data, markets and roles & responsibilities – where gaps or barriers exist in policy and regulation. These are analysed through the lens of smart local energy systems.
You can view the webinar associated with this research below.
Tags: digitalisation; decarbonisation; decentralisation; democratisation; policies; regulations; networks; interoperable; flexibility; privacy