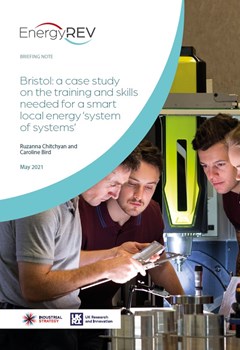 Ruzanna Chitchyan and Caroline Bird
May 2021
The UK's energy system is rapidly changing, striving to become an increasingly smart, localised, renewables-based and carbon-neutral infrastructure. The UK must train the workforce that will deliver and operate this new system, as well as engage the citizens and communities into whose homes and environments this system will have to be integrated.
The present report considers:
What challenges does the UK face in transitioning to smart local energy systems? and
What skills are needed to make this transition successful?
These questions are studied for the context of the city of Bristol, one of the UK's energy champion localities where such a transition is already underway.
The report concludes that:
A smart local energy system comprises of a set of subsystems (of which local government, transport and mobility, traditional energy, building and retrofit, community energy, ICT infrastructure, citizens and communities are considered for Bristol's case study). All these subsystems must simultaneously undergo the transition to carbon neutrality, to deliver a successful smart local energy system.
The challenges of understanding, integrating, and operating the smart local energy system of systems are discussed and a set of recommendations for address these challenges is provided.
The transition requires a set of skills (enumerated in the report) within each of the subsystems, as well as across the whole smart local energy system. The skills training delivery for each subsystem needs to be tailored for that subsystems' workforce context.
A seminar about this report was held in May 2021.
Tags: Sub-system; buildings; people; coordination; technologies; managerial; policy; regulation; engineering; trades; communication