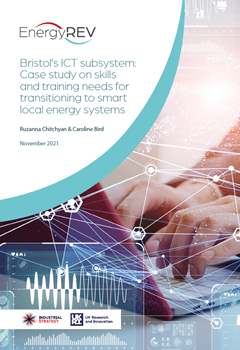 Ruzanna Chitchyan and Caroline Bird
11th November 2021
As the UK's energy system integrates digital technologies, the role of skilled Information and Communication Technology (ICT) professionals in this sector is becoming more critical. ICT professionals are tasked with setting up data collection for monitoring and control of such energy systems, as well as providing solutions for optimal decision-making to foster efficient energy management. ICT systems, for example, enable continuity of energy supply to homes while optimising use of renewable generation and storage; integrate EV charging needs into the energy grid without causing supply and demand imbalances; and provide connectivity across the city - which is essential for data exchange and ensuring equality of access. Thus, ICT skills are vital in supporting the transition to clean, smart local energy (SLE).
This briefing reports on ICT skills research for SLE projects across the city of Bristol, and identifies and explores three key challenges:
How to reduce the complexity of SLE software systems
How to tackle the challenges of scaling up
How to build capacity for transition within both infrastructure and human stakeholders.
The report highlights the skills needed and those in short supply which can potentially hinder the transition to SLES; alongside the mechanisms for training. The Bristol case study serves as an example for considering the transition in other localities.
Tags: Software; scale; capacity-building; expertise; people; transitions; sub-system; flexibility; trial; users; integration; installation; technical