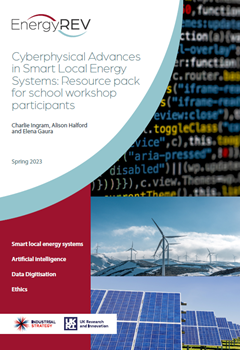 Charline Ingram, Alison Halford and Elena Gaura
24th May 2023
Despite young people being the generation most threatened by climate change, youth voices continue to be underrepresented in consultation on the challenges and solutions when delivering a sustainable, affordable and cleaner energy future. Having an informed younger generation with the necessary understanding around Smart Local Energy Systems (SLES), energy digitisation and digitalisation is critical to generating a workforce and communities that aid UK's transition to fair and just energy systems.
Drawing upon EnergyREV outputs on the opportunities and challenges of digitalisation of energy systems and SLES, researchers at Coventry University have created a toolkit to address a gap in school resources. Accompanied by a practical workshop and aimed at young people (16-19 years old), this toolkit offers:
· A simple overview of the current energy system and how SLES might provide solutions to shortfalls.
· An age-appropriate explanation of how Cyberphysical systems, Machine Learning and digital architectures support the delivery and integration of SLES.
· Explores energy ethics, including an insight into an 'energy utopia' – an idealised description of a just, fair energy system drawn from interviews with energy stakeholders.
· Signposting to EnergyREV resources generated from other insights and tools.
Workshops were held at three schools throughout January and March, reaching out to approximately 140 students. Here is what some of the students thought of their experiences:
"This workshop about energy was really interesting to me. In computer science, we learn to 'dissect' a problem and solve it. In this workshop we were shown an actual problem in society and were given a chance to come up with ideas as to how we would have a clean green energy system. In the workshop we were also shown how new technologies such as AI are being used to fix modern problems in society."
(Year 11 Student, West Midlands)
"This workshop really helped me improve my understanding on energy and how companies are trying to create technology that distributes energy efficiently between houses. It also helped me understand what ethical issues are, the different types of ethical issues and how it could be linked to a real-life situation."
(Year 11 Student, West Midlands)
If you would like more information regarding this resource, or would like to hold this workshop in your school, please get in touch with Charlie Ingram on charles.ingram@coventry.ac.uk.