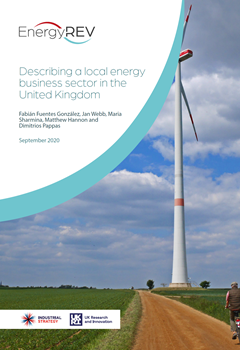 Fabián Fuentes González, Jan Webb, Maria Sharmina, Matthew Hannon, and Dimitrios Pappas
September 2020
Describing the current state of UK local energy businesses is a first step towards assessing the sustainability benefits of decentralised, integrated energy systems, including their decarbonisation potential. It is key to understanding the current condition and shape of the sector, as well as supporting future innovations for a more decentralised, clean, affordable, resilient, and democratic UK energy system.
A local energy sector characterisation needs to consider not only how 'local', but also how 'smart' such businesses are, with digitalisation a key factor. In our briefing note and report we have taken a first step with the development of a qualitative scale that covers 4 levels of localism and 5 levels of smartness.
There are more local businesses than there are smart. In our sample of 699 businesses 184 showed the highest level of localism. Only 21 have reached Level 2 of 5 when it comes to smartness.
Private, public, and community-oriented sectors are integral to developing more local and smarter energy businesses. Transition is happening slowly towards a more local but also smarter energy business sector, with diverse energy businesses addressing decarbonisation, decentralisation, digitalisation, and democratisation,
There is significant scope for developing the sector through pathways to more locally-embedded, smarter energy businesses capable of accelerating decarbonisation.
Tags: local authorities; place; supply; distribution; demand; geography; technology; institution; DNO; renewables