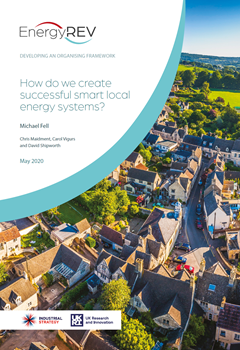 Mike Fell, Chris Maidment, Carol Vigurs, and David Shipworth
May 2020
This report presents a provisional "Theory of Change" showing the conditions EnergyREV researchers think are needed across a range of "challenge areas" (e.g. users, financing, data, skills) for SLES to develop, and for them to bring benefits. It also highlights risks and assumptions. As the work of the consortium progresses, we will be mapping findings onto this Theory of Change. This will allow us to see if the findings support the provisional pathways to expected benefits. It will also help us spot interactions between different challenge areas, such as how different forms of financing (such as crowdfunding) relate to user benefits.

This approach aims to be useful to SLES providers and policymakers. It will be a way of clearly seeing "what works" in developing SLES which have the kind of benefits they need in their particular situation. It will also support more holistic planning which acknowledges how the different areas of SLES implementation (e.g. skills, financing, etc.) need to align to maximise benefits.

The first document listed here is a report on the Theory of Change development process. It also includes the provisional Theory of Change and links to an online version. We have also prepared a worksheet document which is a discussion prompt for those who are planning and implementing SLES. It draws on the Theory of Change to help such implementers ensure they are considering a range of important challenge areas.
Tags: ToC; tool; synthesis; data; users; skills; business; finance; heating; cooling; mobility; technology