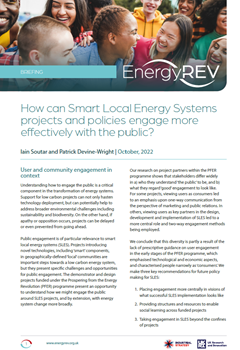 Iain Soutar and Patrick Devine-Wright
24th October 2022
How can Smart Local Energy Systems projects and policies engage more effectively with the public?
Transforming energy systems will require engagement with users, communities and the wider public. Smart Local Energy Systems (SLES) present a specific set of challenges and opportunities for such engagement. This report discusses how organisations involved in SLES projects think about, carry out, and rationalise public engagement activities.
We have found that project partners engage a range of user and community groups around multiple energy system components, directly but also indirectly via intermediary organisations. They each employ a blend of modes of engagement, including information provision, consultative, and participatory approaches. For the most part, engagement efforts within projects are focused a small number of technologies, rather than local systems more generally.
Project partners rationalise engagement practices by articulating a variety of roles for people, including as co-creators, recipients, and consumers of SLES. Some also presented non-engagement as a response to publics who are characterised as unwilling or unable to engage in SLES.
The report includes a set of recommendations to help guide the development of future SLES policies and programmes, namely: providing more emphasis on and clarity about, the value of engagement; fostering innovation and learning in engagement practices; and taking public engagement beyond project contexts.