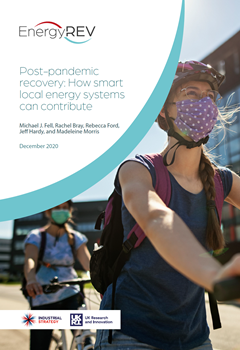 Mike Fell, Rachel Bray, Rebecca Ford, Jeff Hardy, and Madeleine Morris
December 2020
This report considers how the development of smart local energy systems (SLES) could support post-pandemic green economic recovery. We suggest reasons why viewing recovery through a 'SLES prism' could be beneficial, and encourage policymakers to consider this in their planning.
The six aspects of the SLES prism are:
local knowledge
engagement and trust
coordinated planning
economic strategy
unlocking co-benefits
scaling up.
We have also identified four key areas of activity for a green recovery based on existing proposals:
building energy efficiency
low-carbon heat
low-carbon mobility
generation infrastructure.
We make the case for why SLES could deliver in these areas in a way that is better value and better targeted, with more and quicker (but enduring) action and investment. We also highlight some of the key risks to bear in mind. The report includes a number of brief case studies that illustrate how local energy schemes are already delivering the kinds of benefits we discuss.
A webinar about this report was held in March 2021.
Tags: Covid; economy; growth; net-zero; equity; resilience; efficient; heating; transport; renewable; tool