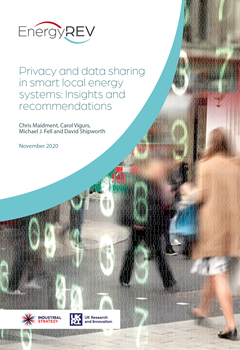 Chris Maidment, Carol Vigurs, Mike J Fell and David Shipworth
November 2021
Smart local energy systems (SLES) can help deliver energy services efficiently by automating complex processes, self-regulating, learning user preferences, and helping inform effective decisions. They need various forms of data to do this, data that users must often actively choose to share.
Alongside meeting their legal data protection obligations, SLES providers must take any privacy concerns held by potential users into account or they risk harming trust, participation and data sharing in the SLES.
We have reviewed evidence on privacy concerns with smart technology in the energy field, with the aim of providing insights for SLES providers on how they can work with users to get the data they need to operate, while respecting and addressing users' privacy concerns.
From this we have produced:
A briefing report that outlines our key findings; eight guiding principles for collecting and using data and a set of recommendations for SLES providers.

An insight report with more detail and examples of how these recommendations can help SLES providers address privacy concerns and maximise (appropriate) data sharing.

Appendices that describe the methods used to find evidence, extract data and generate recommendations.

A technical report that provides a thorough discussion of the evidence behind each recommendation and how they were developed.
Tags: Automation; people; personal; transparency; autonomy; design; empower; value; consent; monitoring; control