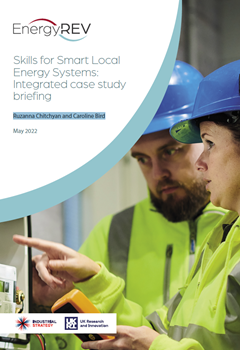 Ruzanna Chitchyan and Caroline Bird
18 May 2022
This briefing aims to help those engaged with local energy system transitions. It demonstrates how a local energy system is made up of subsystems which are interrelated and considers the skills and measures necessary to support emerging smart local energy systems (SLES). It presents an analysis of three case studies, that for the city of Bristol, the Energy Superhub project in Oxford and the ReFLEX project in Orkney.
The briefing notes three key challenges to be addressed in order to transition to a successful SLES, all of which also have associated skills needs:
- Subsystems integration, requiring physical interconnections as well as data and information exchange. Skills such as hardware and software installation, networking and communications, data analysis and machine learning, data protection and standardisation are critical.
- SLES governance and operation brings together the sub-systems in developing common goals and ensuring that different aspects can operate for a common good without unintended negative outcomes. Skills such as cross-institutional project management, supportive policy making, evaluation and assessment, and consistent regulation are key.
-Stakeholder and citizen engagement will help to develop common understanding and support new business models in the evolution of the SLES. Skills such as technological literacy, risk management, financial planning, partnership building, communication and engagement are needed.
A set of recommendations that address these challenges is also presented