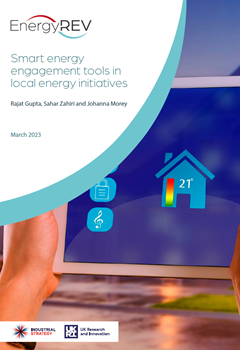 Rajat Gupta, Sahar Zahiri and Johanna Morey
6th June 2023
Deploying smart local energy engagement tools (SLEETs) in local energy projects enables users to better control energy, and potentially become active participants in local energy management. Using a cross-project approach, this report examines the prevalence, effectiveness and inclusiveness of 84 SLEETs deployed in 72 local energy projects in the UK between 2008 and 2018 using an original framework, characterising SLEETs in terms of level of interaction and interface design.
Our study shows over half of SLEETs were information-driven and only 12% offered users opportunities to control energy use, and 30% offered interaction. Despite a key role of inclusive SLEETs in scalability of smart local energy system (SLES) initiatives, it deployed in one-fifth of the projects. Information-driven tools (e.g. In-home-Display) were most popular in community energy groups, while digital energy platforms (DEPs) - or interaction tools - were dominant in SLES initiatives. In contrast, gamification and digital voice assistants, despite having visual and aural interfaces and energy management systems offering control were less popular.
The findings revealed SLEETs were mostly deployed in areas with grid constraints (technology), active community energy groups (people) and engaged local authorities (policy). The acceptance and implementation of SLES initiatives in local areas can be enhanced by effective and inclusive SLEETs that align with local users' requirements and are supported by local stakeholders to foster trust.