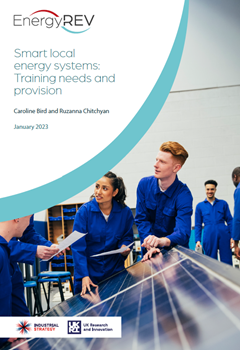 Caroline Bird and Ruzanna Chitchyan
30th January 2023
As the energy system becomes increasingly decarbonised, localised and digitalised, the skills required to develop, install and operate its components are changing. Based on interviews with over 70 professionals currently engaged with three case studies of smart local energy systems and educators, this report suggests what training provision is needed to deliver the skills needed for future smart local energy systems (SLES).
Given that SLES are a dynamic and rapidly technologically evolving area, those working within the SLES sector must continuously acquire new skills. This is done by combining different training approaches over the course of a professional's career. As a result, the SLES professionals are increasingly the multi-skilled workers who operate outside of the skills silo.
Four main types of current training provision avenues are identified: formal training, short courses , on the job and peer learning, and wider knowledge acquisition.
This report provides a set of recommendations on how to support training delivery for the SLES workforce. The recommendations are aimed at the government, teaching and training qualifying bodies and educators.