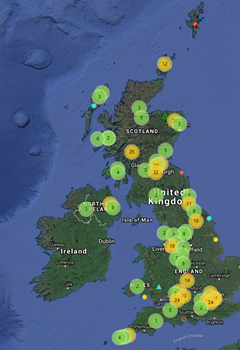 Jan Webb
24th March 2023
A GIS mapping tool has been developed, which collates UK based Smart Local Energy Systems (SLES) related businesses, providing visualisation on the extent that they are 'smart' and 'local'.​
​A database, comprising 699 legally-constituted companies working in the energy sector in the UK, has been collated. The database is based around information provided by the Bureau van Dijk FAME database which has been enhanced by the EnergyREV team, who have manually collected and integrated information from additional sources, including:​
Specialised/sectoral websites; 

​

Company websites;

​

Notes from financial statements on UK Companies House website;

​

Media articles;

​

Other online sources from Google search engine. 

​
​Information from the database has been translated into GIS, enabling data to be visualised on a map.​
​Companies are considered local based on at least one of the following:​
1) Relationships with local stakeholders;​
2) Involvement in local decision-making;​
3) (Some) local ownership of assets.​
​This exploratory approach to classifying businesses as local will be further developed over time. The tool was developed by the EnergyREV Business and Finance Research Team, with technical support from researchers based at the University of Strathclyde.​
​You can access the GIS Mapping tool at: https://www.energyrev.org.uk/app_plugins/Maps/V3/index.html#5/55.503/-3.067
​