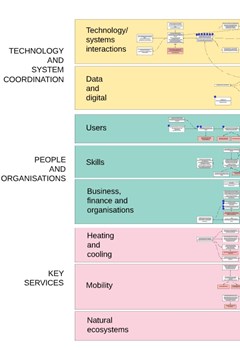 Michael Fell and David Shipworth
24th March 2023
The Theory of Change (ToC) interactive tool highlights the key conditions required for developing smart local energy systems (SLES) which have been indentified through EnergyREV research. The ToC tool illustrates how Smart Local Energy Systems are expected to deliver desired outcomes like prosperous communities with quality employment or meeting climate targets.
Initially built through a collaborative process (see report for details) the tool is frequently updated using new information as it becomes available. Conditions required to reach different outcomes from a SLES are shown for a range of challenge areas: technology/system interactions; data and digital; users; skills; business, finance and organisations; heating and cooling; mobility; and ecosystems.
Those planning, implementing, and supporting SLES projects can use the ToC tool to help think through whether or not their projects meet the conditions, and if this matters. It includes a range of interactive features, such as the ability to show/hide:
summaries of EnergyREV findings relevant to various conditions, with links to original reports;
important policy/governance considerations influencing underlying conditions;
possible metrics that can be used to evaluate progress against creating conditions;
a high-level summary version.
The interactive theory of change platform can be accessed here: 
https://lucid.app/lucidchart/d68aa74e-164a-49ce-b5d0-34bf0a548e4f/view?page=0_0#