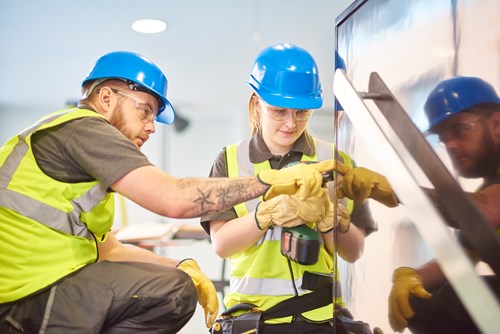 Caroline Bird, Senior Research Associate, Bristol University
30th March 2023
To support the UK Government's net zero commitment, the energy system is becoming increasingly decarbonised, digitalised and localised and the skills required to develop, install and operate its components are, inevitably, changing. Over the course of EnergyRev, we have been looking at these skills issues, taking 3 quite different case studies to explore in depth what types of skills are needed for the different sub-systems of the 'smart local energy system' approach.
These sub-systems connect together to make up the overall supply, management and demand of energy in a locality, for example:
(renewable) energy generation, supply and storage,
construction and retrofit of buildings where heat and electricity are stored, consumed and, increasingly, also produced,
transport and mobility where electric vehicles consume electricity or feed it back from battery to grid,
local/national government which regulates energy,
people and communities who participate in energy demand (and management) and may also be employed in a related job.
Each of the sub-systems have specific, sector-related skills but, for SLES to work effectively, the component sub-systems also need to be smart and inter-connected. This means that much of the SLES workforce will need data management and other ICT skills alongside their role-specific capabilities (e.g., a local authority city planner using data analytics to inform her daily work). As technologies rapidly change and develop, those working within the SLES sector must also acquire new skills, combining different training approaches over the course of a career – for example short courses or on-the-job learning to enhance a previous degree or apprenticeship. This means that they become more multi-skilled, bringing a broader knowledge base to their roles and operating outside the skills silo.
The development of new qualifications and the training to deliver them must keep pace with these changes, with colleges and universities responding rapidly to changing needs. Flexibility is key, so that students can combine elements of different (existing) courses as appropriate to the needs of their future careers. For example, adding data analysis to a mainly Marketing qualification for a 'Marketing with Data Science' hybrid qualification, or electricians adding digital skills for working with smart components. Our conversations with further education colleges have identified some key barriers to the development of new training approaches:
First, there is the 'chicken and egg' of supply and demand with a lack of demand meaning that new courses and not developed and therefore not sought. This comes from uncertainty over what skills are needed in the future and employers unaware of the possibilities or unable to apply them at scale.
Secondly, qualification accreditation processes mean that colleges can only offer what is currently accredited. New courses take time and resource to develop and accredit so clarity over future need and policy direction is essential in order to justify investment.
Finally, as noted above, flexibility is essential but currently difficult to achieve. New ways of working in SLES draw on skills from more than one traditional qualification and a new 'hybridisation' approach would allow accumulation of recognised credits from across programmes to reach the desired qualification level.
Our exploration of skills and training issues has led to a set of policy implications aimed at central government, for example in setting consistent policy around the long-term relevance of clean energy and the need for ICT skills in a wide range of jobs. Government also needs to address the issues in developing new and more flexible qualifications, providing resources for qualifying bodies and colleges to develop new frameworks and courses at a range of levels.
The report can be found here.