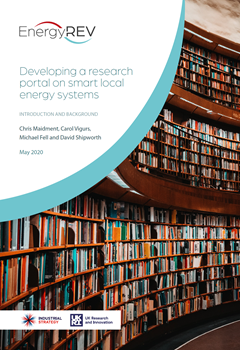 Chris Maidment, Mike Fell, Carol Vigurs, and David Shipworth
May 2020
Our smart local energy systems (SLES) research portal (v0.1) contains information and resources you can draw on to maximise the chances of successful delivery if you are involved in implementing SLES, for example as part of a local authority, community energy group or a business.
The new portal is an evolving database of research on SLES. It is currently in a spreadsheet format that can be easily searched and browsed for basic information on hundreds of research documents relevant to SLES.
This is just the first stage: we will add summary details and easy-to-read syntheses of the best available evidence, as well as additional sources, over the next few years. Ultimately, this will evolve into an online resource, so we are interested in what you would find most useful. We have made the information available now so we can learn more about how you use it, and so we can tailor our resources to suit your needs.
This early version of the spreadsheet will allow you to begin to explore the evidence for how SLES with good outcomes might be implemented. This short report explains how you can use the spreadsheet and goes on to briefly summarise the work underlying it. Finally, we provide some information about the next steps in our work, and how you can contribute.
Tags: Synthesis; business; finance; data; digital; ecosystem; evaluation; heating; cooling; mobility; policy; technology; users; skills